Chapter:
Hopes and Dreams
Equipment for Special Constables
"What every Special Constable was wearing those days"
1919 Winnipeg General Strike Special Constables equipment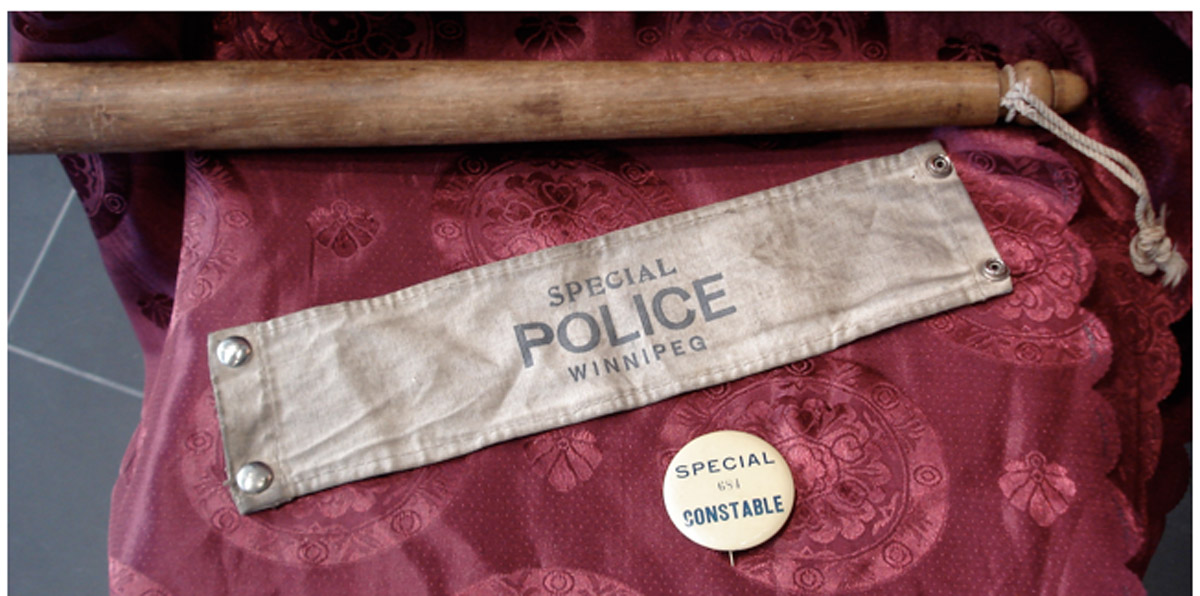 Special Constables equipment: baton, armband, badge
Story
This is part of the 1919 Winnipeg General Strike Special Constables equipment including an armband, baton and badge. The Winnipeg General Strike began on May 15, 1919 and lead to the largest work stoppage in Canada at that time.

Approximately 1,400 "Special Constables" were hired to patrol the streets in civilian clothing, armed with makeshift wooden batons, and wearing white armbands. The Winnipeg Police Force had formed an unauthorized union in 1917. When the strike began, the police force was put in a impossible position of being called up to join in a sympathy strike.
The City reacted by ordering Chief Constable Donald MacPherson to interview every police employee and instruct them to quit the illegal union or face dismissal. In all, 228 members refused to quit the union and to sign an oath of loyalty. They were dismissed on June 9 and 10 by the Chief. Only 23 members decided to quit the union and sign the oath. The police union ceased to exist and most of the dismissed officers were rehired after the strike, when they signed the oath of loyalty.