Chapter:
Making Your Mark
1935 Grey Cup Souvenir Wood Football
"We are the champions!"
1935 Blue Bombers vs Hamilton Tigers Grey Cup souvenir wood football made from goal posts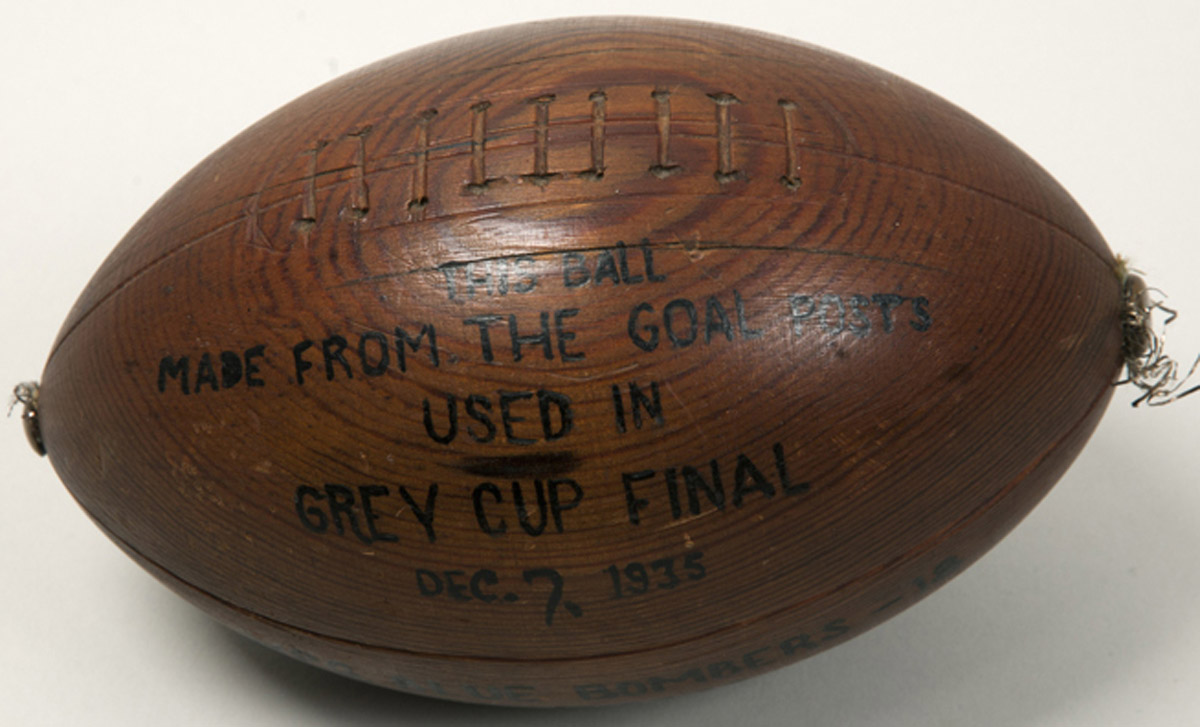 1935 Souvenir Wood Football
Story
The Winnipeg Blue Bombers were established in 1930, though they were known as the "Winnipeg Winnipegs" for their first five years. In 1935 they were the top football team in Western Canada and won the right to play in the 23rd Grey Cup.

The game was held on December 7, 1935 in front of 6,405 fans at the Hamilton (Ontario) Amateur Athletic Association Grounds. The match was between the Winnipeg Winnipegs and the Hamilton Tigers. This was the first championship where teams included import players from the United States. Fritz Hanson, from North Dakota (USA) and nicknamed the "Golden Ghost", helped lead Winnipeg to an 18 - 12 victory as he had over 300 yards in punt returns, including a game winning 78 yard return for a touchdown.

Post-game celebrations must have been rather exuberant as this souvenir wooden football was carved from the goal posts. There are also stories that the team did not have enough cash to pay their hotel bill and a member of the club executive had to come to their rescue.

This was the first time a team from Western Canada had won the Grey Cup. It was not the last championship for the Blue Bombers either as they would also went on to win more Grey Cups (1939, 1941, 1958, 1959, 1961, 1962, 1984, 1988, 1990 and 2019) and will likely continue to do so.