Manitoba Day
Congratulations to The Manitoba Museum
for their record breaking attendance at their
Manitoba Day event on Saturday, May 14th!
See News Release
---
Congratulations to the Mennonite Heritage Village
for the stellar turnout to their Manitoba Day event!
See Newsletter
---
Manitoba Day is May 12th
Manitoba Day History
The Manitoba Act, which created the Province of Manitoba, was given Royal Assent on May 12, 1870. This paved the way for the proclamation on July 15, 1870. On May 12, 1966 Manitoba's official flag was dedicated and unfurled for the first time. In 1986, May 12 was designated as Manitoba Day in perpetuity, in recognition of the importance of this day in the history of the Province.
Here is a list of some Manitoba Day events:

Association for Manitoba Archives, Winnipeg
The Association for Manitoba Archives Annual Manitoba Day Awards presentation will be held on Thursday, May 19, 2016, at 4:00 p.m. The event, which recognizes excellence in the use of archives, is hosted this year by the University of Winnipeg Archives and will be held at 5C02, Centennial Hall. This year's nominees include authors of widely-ranging publications, exhibits, and online tools for researchers. For further information or to attend, please contact the AMA office at ama1@mts.net or visit their website at http://mbarchives.ca/.

Beckoning Hills Museum, Boissevain
Our museum will be open to welcome local students on Manitoba Day, Thursday May 12, as well as on May 13. Students from local schools have been invited to attend.

Commonwealth Air Training Plan Museum, Brandon
In honour of Manitoba's 146th birthday, the Commonwealth Air Training Plan (CATP) Museum is hosting a free open house on May 12 from 10:00 a.m. to 4:00 p.m. at the Brandon Municipal Airport. Travel back to the 1940s as you wander through a WWII vintage hangar serving as a display area for aircraft, vehicles and hundreds of artifacts from that era. Honour those brave RCAF Manitobans who lost their lives during WWII by walking the museum's RCAF WWII Memorial wall. This is Canada's only air museum solely dedicated to the preservation of the history of those who trained and fought for the British Commonwealth during WWII. Visit the CATP Museum located at Brandon Municipal Airport, on HW #10, 1.6 km north of the Trans-Canada highway.

For more information call 1-204-727-2444, email airmuseum@inetlink.ca or visit their website at www.airmuseum.ca

Heritage Winnipeg - Doors Open Winnipeg, Winnipeg
Winnipeg is rich with history and long lost stories. Now's your chance to unlock the mystery behind these architectural and cultural gems at the 13th annual Doors Open Winnipeg. This is a free, citywide public event being held during the weekend of May 28 and 29, 2016. Featuring over 80 remarkable buildings, including many historic walking tours. Come tour the historically significant Ukrainian Labour Temple, the newly relocated Winnipeg Police Museum, the Canad Inns Metropolitan Entertainment Centre and new this year the Elm Chapel and Upper Fort Garry Provincial Park.

For details visit doorsopenwinnipeg.ca. Presented by Heritage Winnipeg… "Celebrating the stories our buildings tell!"

Heritage Winnipeg and The Manitoba Museum, Winnipeg
Heritage Winnipeg will participate in the 5th annual Manitoba Museum's free Saturday event celebrating Manitoba Day on Saturday, May 14, 2016 in partnership with Friends of Upper Fort Garry and Dalnavert Museum. For further information call 1-204-942-2663 or email info@heritagewinnipeg.com or visit their website at www.heritagewinnipeg.com.

J.A.V. David Museum, Killarney
The Museum will be holding a Manitoba Tea on May 12 from 2 – 4 with displays from the Killarney Art Club.


Jewish Heritage Centre of Western Canada and the Gray Academy of Jewish Education, Winnipeg
The Jewish Heritage Centre and the Gray Academy of Jewish Education are two of the principle exponents and promoters of Jewish culture in Winnipeg. The Heritage Centre focuses on the historical and cultural development of Winnipeg Jewry while the Gray Academy provides the pedagogical tools and techniques essential to fostering a Jewish identity among youth.

Both organizations have partnered in an internship program aimed at engaging a young person in developing a project that speaks to his/her identity and celebrates Manitoba Day. This year, Anna Zaifman, a grade 11 student, will create an exhibit that depicts the story of her grandmother, Sarah Zaifman, a Holocaust survivor. The exhibit will follow Sarah's life from her birth in Poland, to her horrific experiences during the Holocaust and her eventual settlement in Manitoba where she became a respected and productive member of her community.

The exhibit will open on Monday, May 16 at the Gray Academy in the Asper Jewish Community Campus (123 Doncaster). The opening will be videotaped and will include guest speakers and a reception. Anna will deliver the curatorial remarks. The audience will consist of students, teachers, parents, friends, members of the Jewish Heritage Centre and other community organizations. The exhibit will be on display until the end of June.

For further information on this and other Jewish Heritage Centre programs please call (204) 477–7467, email scarbone@jhcwc.org or visit their website at www.jhcwc.org.

Jim's Vintage Garage, Headingley
http://www.jimsvintagegarages.ca/#!events/cjg9

Le Musée de Saint-Boniface Museum, Winnipeg
Celebrate Manitoba Day at Le Musée de Saint-Boniface Museum by visiting the ever-popular Louis Riel exhibit and by discovering how the ingenious Red River carts were made! This Métis invention shaped the development of the North-West by providing a means to freight heavy loads of goods, people and correspondence across an impressive network of trails. Traditional Red River cart maker Orille Haugen will be on-site with one of his carts from 5:30 p.m. to 8:00 p.m. and will share stories about cart construction and recent travels across Manitoba and Saskatchewan.

Le Musée de Saint-Boniface Museum is expanding its hours for Thursday, May 12 and will be open from 10:00 a.m. to 9:00 p.m. Light refreshments will be served. Admission is FREE. For more information, call 1-204-237-4500, email info@msbm.mb.ca or visit their website at www.msbm.mb.ca.

Manitoba Agricultural Museum, Austin
We invite you to celebrate Manitoba Day on May 12th with us. Opening Ceremony at 10 am, with the Flag Raising and followed by Happy 146th Birthday Manitoba cake and refreshments. Wander through the Pioneer Village and view the Village of Quilts; several are century-old examples of the handwork created by our pioneers."Take a trip down Memory Lane" as you see fine examples of the authentic farm equipment used to build our province. We are bringing special attention to our IHC 15-30 Titan and Case 12-25 tractors, both built in 1916 and celebrating their 100th birthdays this year.

Free admission to the grounds all day. Refreshments available. Contact the Museum for more information, at 204-637-2354 or by email.

Manitoba Historical Society, Winnipeg
The Annual Lieutenant Governor's Awards for Historical Preservation and Promotion, presented in consultation with the Manitoba Historical Society, to honour Manitobans who have rendered prolonged, meritorious service in the preservation and promotion of Manitoba's history, will be presented in a special ceremony at Government House, on Manitoba Day, May 12, 2016. The event is by invitation only. For further information call 1-204-947-0559, general email inquiry, info@mhs.mb.ca or visit their website at www.mhs.mb.ca.

Manitoba Archaeological Society and The Manitoba Museum, Winnipeg
The Manitoba Archaeological Society (MAS) volunteers will be at The Manitoba Museum from 11:00 a.m. to 5:00 p.m. on May 14 to answer the public's questions about archaeology. Free admission. For further information call 1-204- 942-7243 (leave a message) or email mbarch@mymts.net or visit the Society's website at www.manitobaarchaeologicalsociety.ca.

Manitoba Genealogical Society and The Manitoba Museum, Winnipeg
The Manitoba Genealogical Society will be part of the Manitoba Day Celebration at The Manitoba Museum on Saturday, May 14 from 11:00 a.m. to 5:00 p.m. The society will offer an educational display to explain the materials and the methods available to research family history and genealogy in Manitoba. Experienced researchers will be on hand to help visitors explore the many Manitoba resources that are available. Whether your family has been in Manitoba for generations or has just arrived, the Manitoba Genealogical Society can help you trace your ancestors and begin creating your own family history. For further information call 204-783-9139, email contact@mbgenealogy.com or visit the Society's website at www.mbgenealogy.com.

Mennonite Heritage Village, Steinbach
We will again offer a reduced admission rate of $2.00 per person during Manitoba Day. We will also conduct a formal flag-raising ceremony with greetings from various dignitaries. Many of our heritage buildings will have interpreters present for part of the day. Horse-drawn wagon rides will also be available to our guests.

New to our Manitoba Day event this year will be the Craft Sale which will take place in the Auditorium. Local artisans have been invited to promote their made-in-Manitoba crafts to our visitors. We are expecting approximately 20 craft tables and there are still some spots available. The MHV Auxiliary will support this event by serving "Beaver Tails", a deep-fried pastry treat.

Moncur Gallery – People of the Plains, Boissevain
The moncur Gallery in Boissevain has invited local students to attend on May 11th & 12th for Manitoba Day. Four classes have requested tours.

New Iceland Heritage Museum, Gimli
On May 12th, 2016 the New Iceland Heritage Museum will celebrate Manitoba Day with the opening of two exhibits: "Nice Women Don't Want The Vote" an exhibit from the Manitoba Museum marking 100 years since women could vote in provincial elections and "Then and Now" celebrating the 100th anniversary of the Jon Sigurdsson Chapter IODE .

Guest speaker: Linda McDowell, Historian
Presentation by the Gimli High School Social Justice Club

The event will take place at 2:00 p.m. on Manitoba Day, May 12th in the Johnson Hall, 5th Floor of the Waterfront Centre, 94 -1st Avenue, Gimli.

Join us as we celebrate Manitoba Day and the contribution women have made to the development of our great province! Refreshments and viewing of the exhibits following the opening ceremonies. Everyone Welcome ~ Silver Collection. If you plan to attend please RSVP to nihm@mts.net or call 204-642-4001

Royal Aviation Museum of Western Canada, Winnipeg
On Manitoba Day, come be part of a special walking tour at 2:00 pm featuring epic Manitoba innovations and achievements. You'll learn about the innovations that were made right here at home-including breakthroughs in cold-weather flying, rocketry and Canada's first helicopter. Free coffee will be available after the tour. Tours are free with admission. Tours are always free for members. Thursday, May 12, 2016: Guided tour at 2:00 pm, Museum open 9:30 am to 4:30 pm

Settlers, Rails & Trails Inc., Argyle
Settlers, Rails & Trails Inc. is proud to have created the Manitoba Flag 50th Anniversary Exhibit, at the Legislative Building Rotunda, May 19th to June 7th, 2016. Free Admission during regular building hours.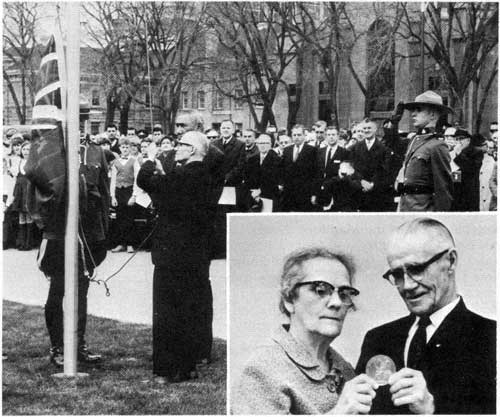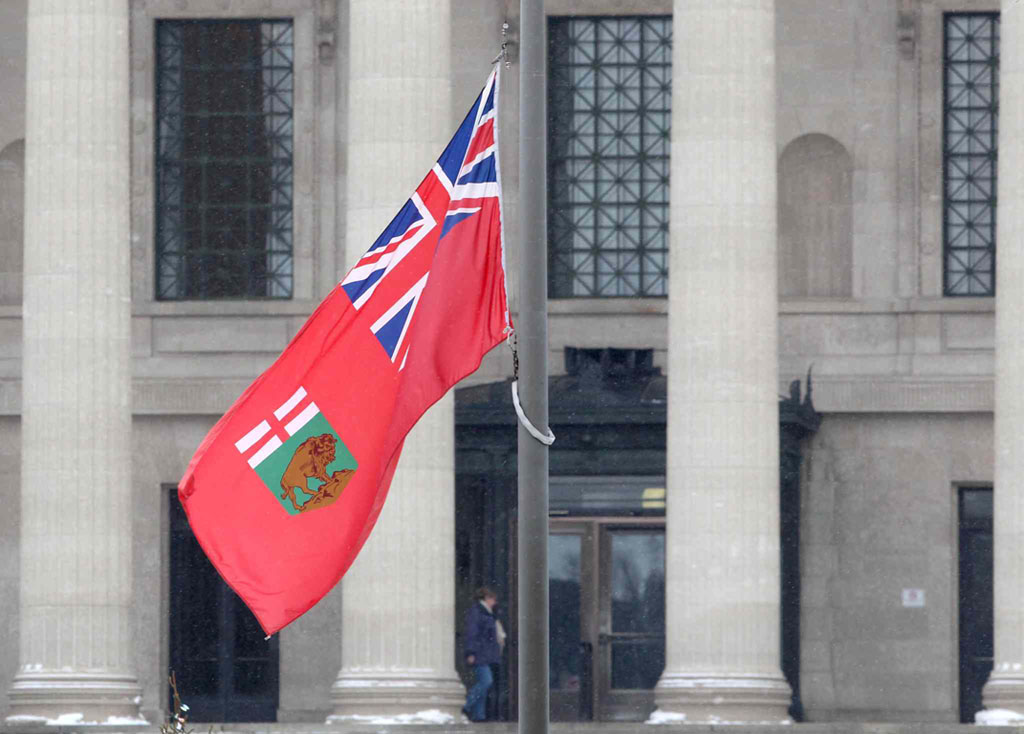 Manitoba flag raised for the first time in 1966 Our province's flag at the Legislature

Sipeweske, Wawanesa
For many years we have celebrated Manitoba Day at the school with the grade 2 class. We have a suitcase with items from long ago that are placed on their desks while they are at recess. They then take turns guessing what the object is for — the teachers' strap usually gets the most reaction! After everyone has had their turn we serve juice and a snack followed by distributing Manitoba pins obtained from our MLA. It is an event students, teachers and museum volunteers all enjoy.

Société historique de Saint-Boniface, Winnipeg
The Centre du patrimoine will hold a reception/lecture in the Salon Empire on Sunday, June 5 to celebrate Manitoba Day. Historian Nicole St-Onge, an expert on the history of the Métis and voyageurs in Western Canada, will give a lecture for the general public. She will present a new research tool related to voyageurs contracts. Professor St-Onge has been working for many years on developing a database to increase the range of documents available to researchers by targeting existing online resources such as those accessible through the Centre du patrimoine website at http://shsb.mb.ca/engagements_voyageurs.

Launched on March 31, 2016, the Digital Archive Database (DAD) website contains over 100,000 transcriptions of historical documents pertaining to Métis history. Developed by Brenda Macdougall (University of Ottawa), Nicole St-Onge (University of Ottawa), Michael Evans (University of British Columbia Okanagan) and Chris Andersen (University of Alberta), this project was funded by the Métis and Non-Status Indian Relations Directorate and Indigenous and Northern Affairs Canada. The content of the site is available to anyone wishing to research their family history, to genealogists, and to university researchers and members of the Métis nation.

For additional information, please call 1-204-233-4888, send an e-mail to us at the following address shsb@shsb.mb.ca or visit our Website at www.shsb.mb.ca.

Teulon and District Museum, Teulon
To celebrate Manitoba Day our museum will be open May 12th from 1:30 pm to 3 pm conducting free tours as well as serving tea, coffee and cookies.
The Archives of Manitoba, Winnipeg
On May 12, the Archives of Manitoba will launch a new display, The Panoramic Record: Wide-Angle Photographs from the time of the First World War featuring reproductions of nine panoramic photographs. This is part of the Archives' ongoing commemoration of the centenary of the First World War. The display can be viewed in the Archives' foyer at 200 Vaughan St., Winnipeg. The public is invited to come and visit the display during normal building hours of 9:00 a.m. to 5:00 p.m. from Monday to Friday.

For more information call 1-204-945-3971, email archives@gov.mb.ca or visit their website at www.gov.mb.ca/chc/archives.

The Manitoba Museum, Winnipeg
The province of Manitoba turns 146 years old on May 12, 2016! Join us on Saturday, May 14, as the Manitoba Museum and presenting sponsor, Manitoba Liquor & Lotteries, host the province's largest Manitoba Day celebration. The festivities begin at 11:00 am and run until 5:00 pm with FREE admission to the Museum Galleries, Science Gallery and Planetarium, plus Manitoba-themed events and activities.

Manitoba Liquor & Lotteries IMPACT Ambassadors, Obby Khan, former CFL Football player; Janine Stephens, Olympic Silver Medallist; Kaitlyn Lawes, Olympic Gold Medallist and Josh Wytinck, Professional Golfer, will available to sign autographs and pose for pictures, also in Alloway Hall.

Participating organizations in the arts, culture and heritage epicentre in Alloway Hall are:

• Manitoba Liquor and Lotteries
• Winnipeg Symphony Orchestra
• Graffiti Gallery
• Canada's History
• Friends of Upper Fort Garry
• Heritage Winnipeg
• Friends of Dalnavert Museum
• Jennine Krauchi, beadwork artist
• Louis Riel Institute
• Manitoba Archaeological Society
• Manitoba Genealogical Society
• North East Winnipeg Historical Society
• Manitoba Buckskin
• St. John's High School student art display

Don't forget to vote for your favourite Manitoba-themed cake in the Cake-a-toba cake decorating contest and lend a hand to paint spectacular community mural in Alloway Hall, thanks to the Graffiti Art Programming Inc.

The formal program begins at 3:00 pm in Alloway Hall, when government representatives will help us celebrate Manitoba's 146th birthday with greetings followed by FREE birthday cake!

The Manitoba Museum's website contains full celebration details.

Transcona Historical Museum, Winnipeg
For Manitoba Day the Transcona Museum will be holding an afternoon of Show & Tell. Our current exhibit explores the history and stories behind the artifacts on display and showcases why they are important to the Transcona Museum. We are inviting the community to come in to the museum and bring their special items, the ones that hold special history or stories and share those stories with us. The event will take place from 1 to 4 p.m. and light refreshments will be served.

Winnipegosis Historical Society Inc., Winnipegosis
Since 2006 Winnipegosis Historical Society has been organizing a Best Manitoba Poster Competition with the Winnipegosis Elementary School. The students submit posters and WHS awards prizes for the best posters. The winning posters are displayed at the Municipal Office.

On Manitoba Day we will be holding a Hamburger & Hotdog Sale from 11:30 – 1:30 p.m. on the Boulevard in Winnipegosis.
If your museum, gallery, cultural or heritage institution is celebrating Manitoba Day let us know about it and we'll enter your institution into a draw for a FREE full conference registration (September 22 - 24, Boissevain).
Remember to also visit our Manitoba Day Facebook page.
@CATPM-Brandon @msbm_mb_ca @ManitobaAg @MHVSteinbach @NIHMGimli @HistoryoFlight @ManitobaMuseum @TransconaMuseum @MBArchSociety