Member News

---
Manitoba Crafts Museum & Library
12th Annual Spring Artisans Market 2017
Click HERE for information or to sign up as a vendor
---
Update for charities from Member of Parliament Ted Falk:
I wanted to take a moment to update you on my Private Members Bill to help charities– The Fairness in Charitable Gifts Act (C-239).

As you know, federal tax credits for political contributions far exceed the federal tax credits for donations to registered charities in Canada. Feeding politicians should never be more important than feeding the hungry and I welcome the opportunity to work with you and your organization to change that!

With this bill, donors to registered charities would receive the same generous federal tax credits that donors to political parties currently receive.

Hundreds of charities across Canada have rallied together to put pressure on their local Members of Parliament to keep this Bill moving ahead in Parliament.

And it's working! MPs are taking notice as the calls and emails of support are coming in from across the country.
However, we are now coming up to a very important moment in the life of this Bill. In early June, The Fairness in Charitable Gifts Act will have its second hour of debate and must pass a crucial vote in order to move on. If it doesn't pass this vote, the Bill will be considered dead.

I am humbly asking for your help once again.

Click here to see the entire letter and to find the names and contact information of MPs to contact regarding this matter.
---
Five Manitobans won Manitoba History 2016 Awards!
Congratulations to the following winners of the Manitoba History 2016 awards:
Shayne Campbell: Settlers, Rails & Trails – Argyle
Pat Eyolfson: Arborg & District Multicultural Heritage Village – Arborg
Gordon McGill
Janis McMorran: Pinewood Museum – Wasagaming (Clear Lake, Riding Mountain National Park)
Raymond Philippot: Manitoba Dairy Museum – St. Claude
To see the news release click here.
---
Museums in Manitoba won 4 awards at the Canadian Museums Association Conference in Halifax.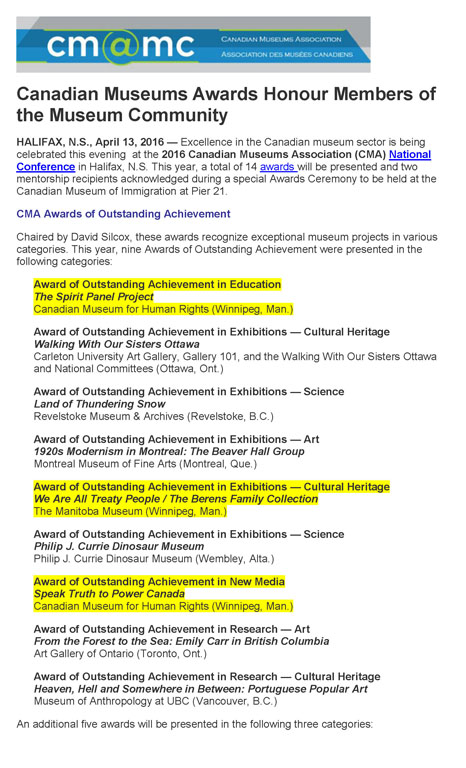 ---